MYDE – Solar Street Light Manufacturer in China
MYDE is a reliable solar street light manufacturer. We offer a wide range of solar street lights in different shapes and provide ODM service, color boxes, carton boxes, and manuals that can be customized to meet your basic needs.
Myde – Solar Street Light Manufacturer
MYDE produces a large number of solar street lights made of high-quality materials. We use branded LED lamp beads, branded drivers, high-quality aluminum alloy lamp bodies, high-quality ABS lamp bodies, high-quality monocrystalline and polycrystalline silicon solar panels, high-quality energy storage lithium batteries, etc. MYDE solar street lights are energy saving, have high solar energy conversion efficiency, high battery capacity and long discharge time, and high brightness, are easy to maintain, and not easy to damage.
As a leading solar street light manufacturer, we offer a variety of different styles of solar street lights. We offer solar street lights with separate solar panels and lamps, all-in-one aluminum solar street lights, all-in-one plastic solar street lights, and various shapes of solar street lights to meet the needs of customers at different levels.
MYDE offers a wide range of Solar Street Light in numerous styles, packaging, brochures, and ODM design variations. We have advanced production facilities to meet all your specifications.
Contact us today!
Solar Street Light Series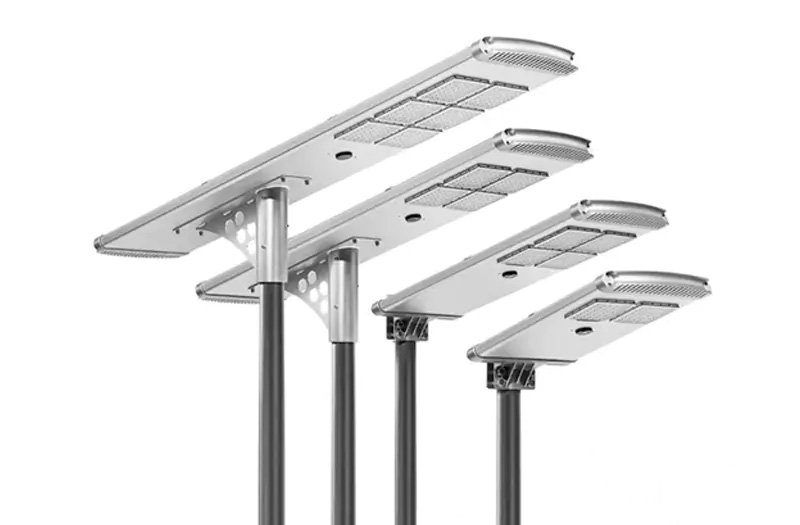 High-Power All-Aluminum Integrated Solar Street Light
MYDE has manufactured many high-power all-aluminum integrated solar street lights. It has high photoelectric conversion efficiency and high brightness. It is made of high heat dissipation aluminum alloy shell.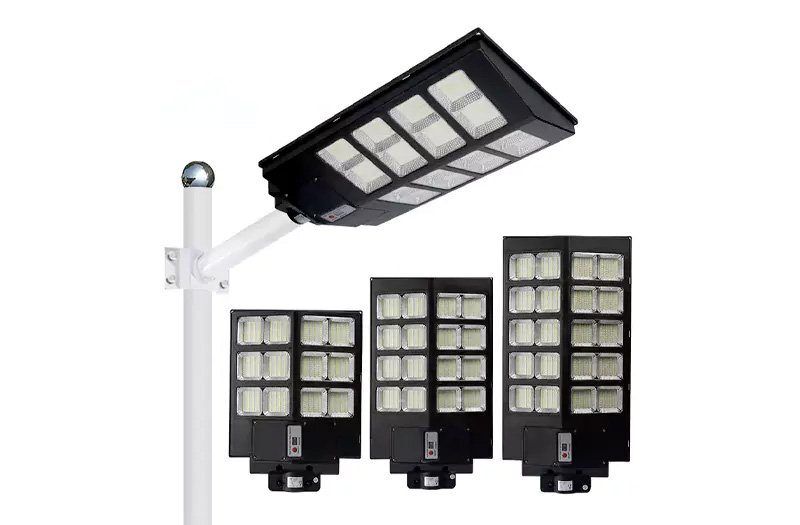 Ultra-Large Light-Emitting Area Outdoor Solar Street Lights
This large light-emitting area of Outdoor Solar Street Lights uses a new high-quality plastic for the light body to maximize the size of the solar panel and the light-emitting area of the fixture. With a high-cost performance.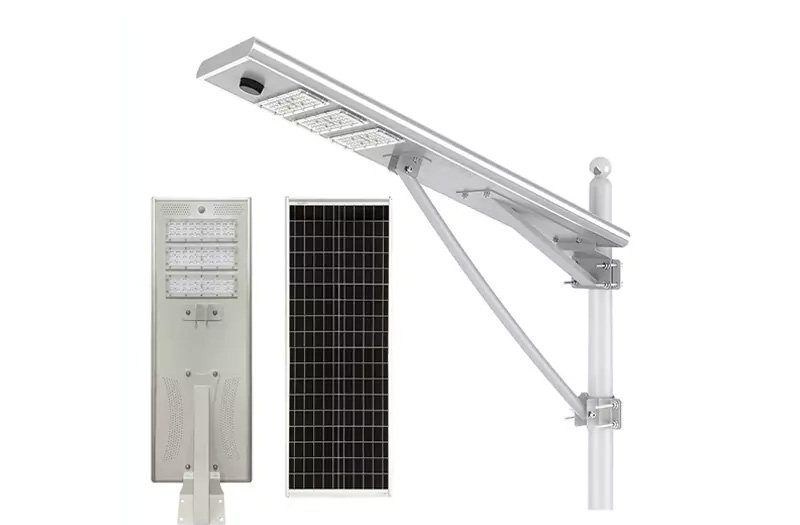 All-Aluminum Solar Powered Led Street Lights
All-aluminum solar-powered led street lights with high-quality tensile aluminum housing have excellent heat dissipation and waterproof performance, excellent weather resistance, and are the first for main street lighting.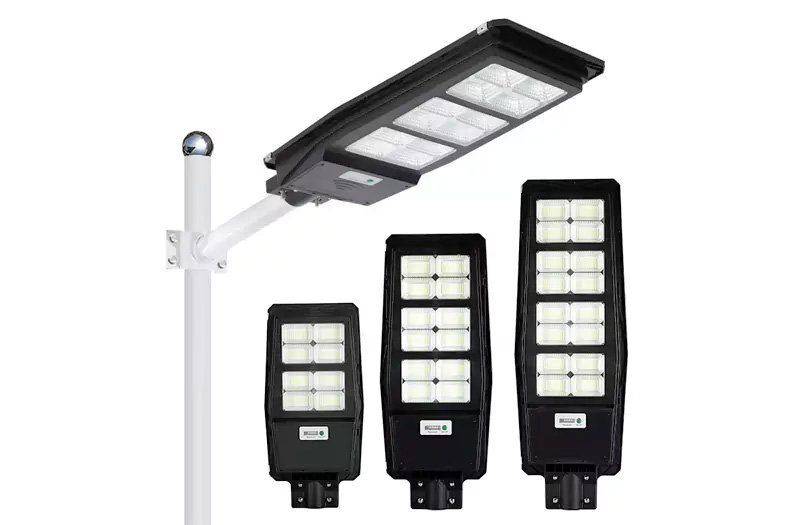 Cost-Effective Solar Street Light With Motion Sensor
This is the best-selling solar street light on the market, with high-quality plastic housing, lightweight, more light beads, and other features, usually used in courtyards, parks and countryside paths, and other places.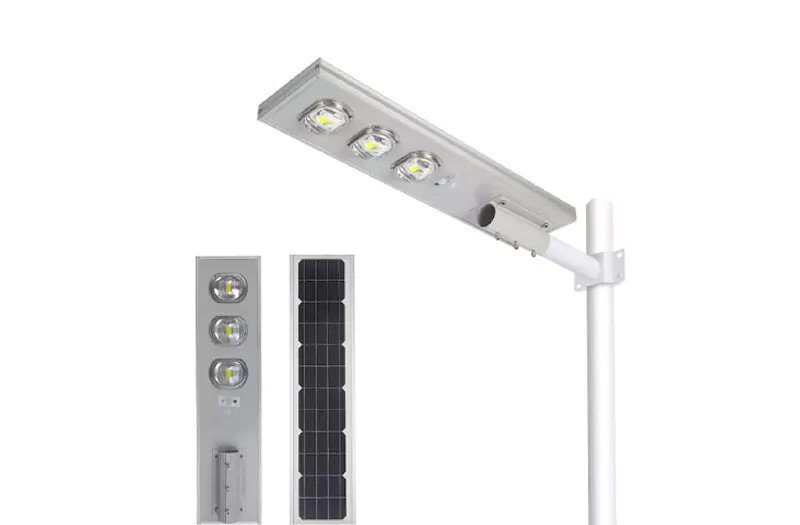 Aluminum Alloy Integrated Solar Led Street Light
The structure of the all-aluminum solar street light is solid and will not be deformed and bent to ensure that the solar panel is well protected, high-power COB beads with high brightness and lifetime up to 50,000 hours.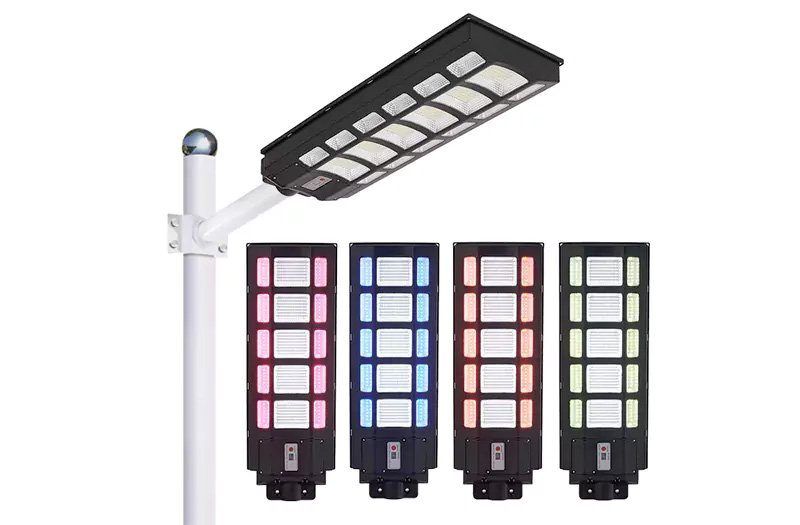 Double-Color High Brightness Solar Powered Street Lamp
The double-color solar street light is made of white or warm light with RGB and other different color beads, and different sizes are available according to your needs. Create a beautiful lighting atmosphere for your yard and road.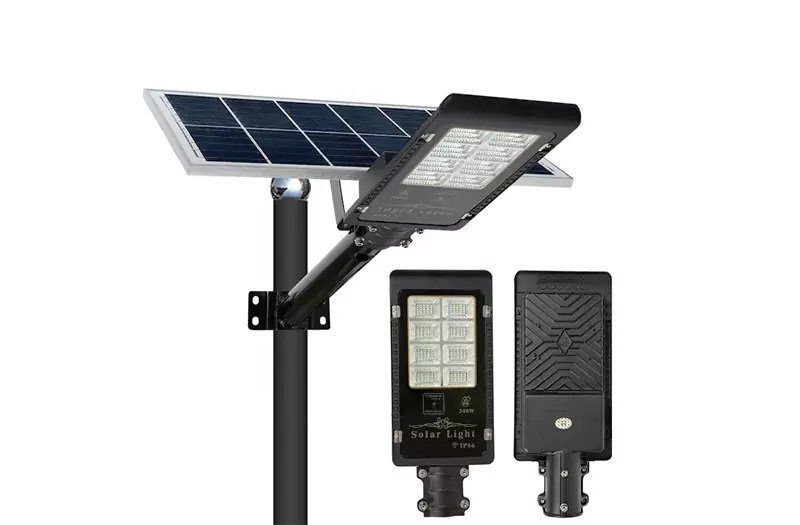 Cost-Effective Die-Cast Aluminum Solar Panel Street Light
This solar panel street light is made of a high-quality die-cast aluminum shell, high-quality tempered glass as transparent parts, and an electroplated reflector combination that is cost-effective and easy to install.
Super Large Luminous Surface Of Solar-Powered Street Lights
The ultra-large luminous surface of die-cast aluminum thin solar-powered street lights. PC milk white light-transmitting cover, softer light. It can resist wind and rain impact and all-weather type with low maintenance cost.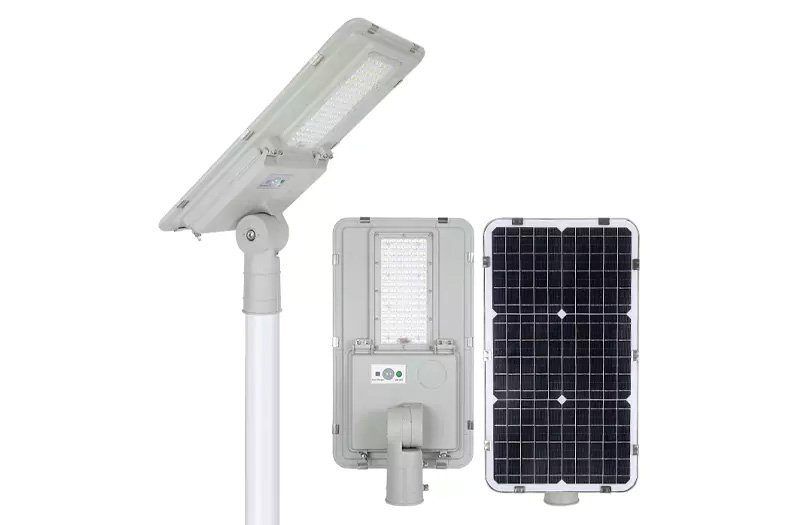 160 Degree Adjustable Die-Cast Aluminum Integrated Solar Street Light
The main feature of this integrated solar street light is that it has a rotatable joint, which can adjust the best angle of the solar panel to receive sunlight. The die-cast aluminum body is durable and sturdy.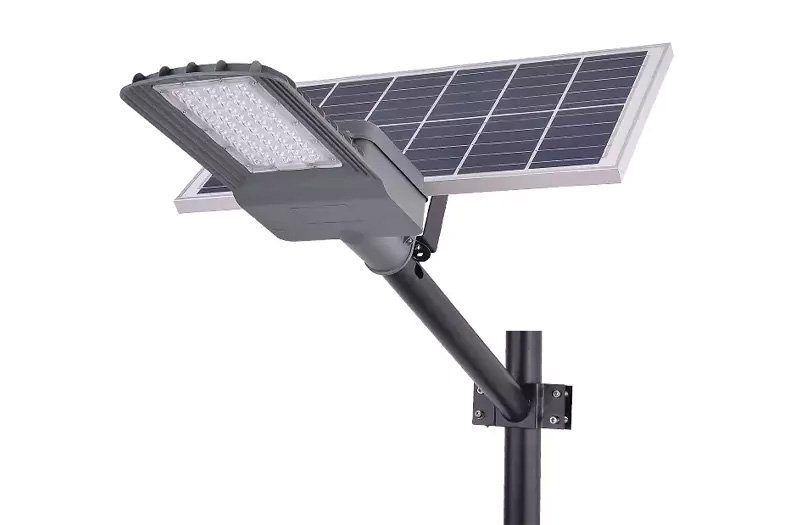 Easy Maintenance Die-Cast Aluminum Solar Street Light USA
This solar street light has a new design; the cavity where the battery and converter are placed has a top cover for easy disassembly maintenance and replacement. The PC optical lens increases the brightness of the light.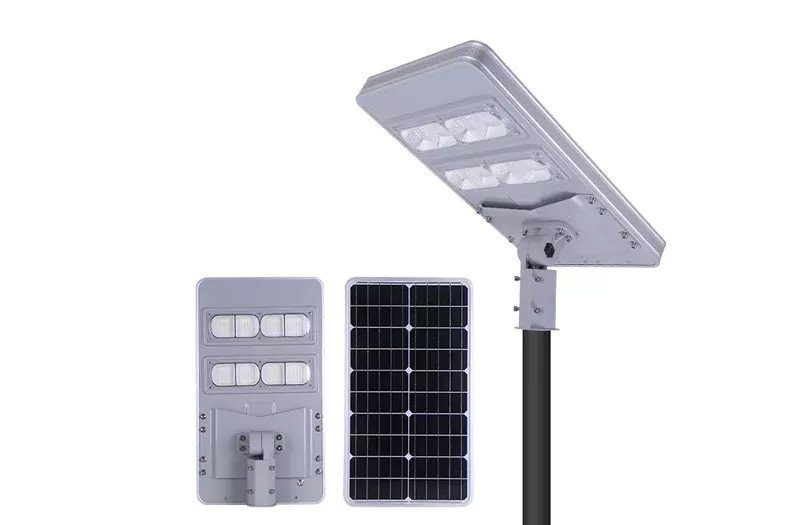 Die-Cast Aluminum All In One Solar Street Light With Adjustable Angle
This is an integrated solar street light with rotatable joints. The modularized light source for better heat dissipation of lamp beads. The alloy aluminum lamp body is durable and high in strength, which is non-corrosive.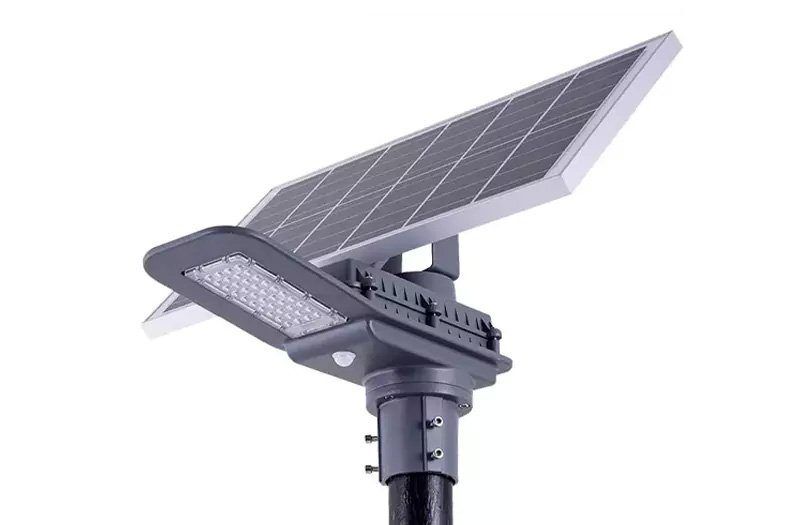 Adjustable Light Source And Solar Panel Solar Power Light Pole
This unique solar power street light with solar panel and light source is designed to be rotatable and adjustable and mounted directly on the top of the street light pole. Extra large capacity battery increases the light time.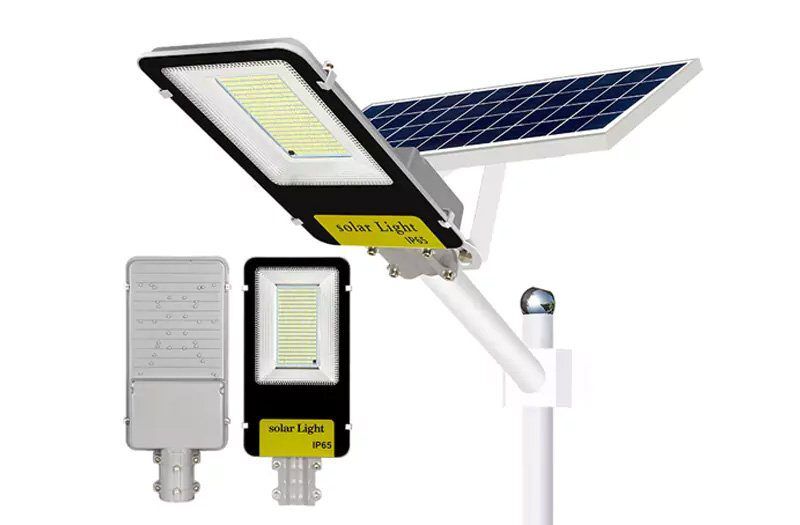 60W Solar Street Light Explosive Sales In The Middle East
The classic 60W solar street light, with extraordinary sales proving its high-cost performance and elegant design, is easy to produce and install. Different color temperatures can be customized according to customers' needs.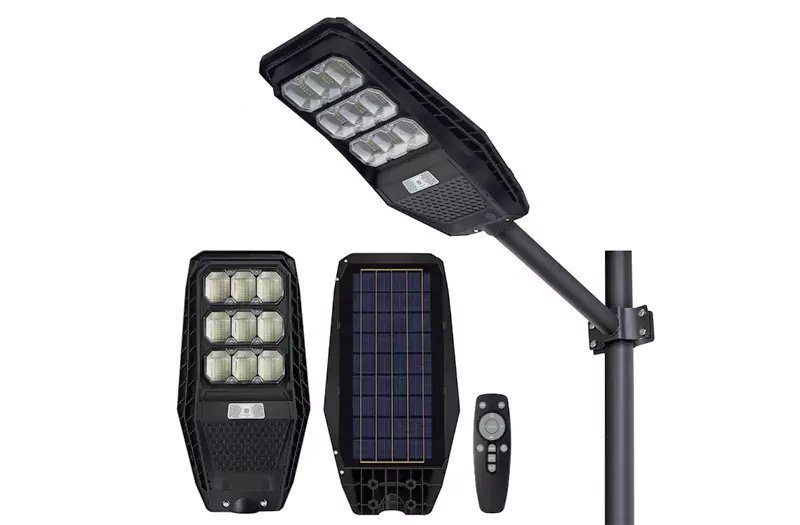 Plastic Housing Solar Street Light With Motion Sensor
The structurally reinforced plastic housing integrated solar street lights can be easily mounted on any wall or street lamp post. They are designed to be used in gardens, courtyards, wooded paths, farmhouses, etc.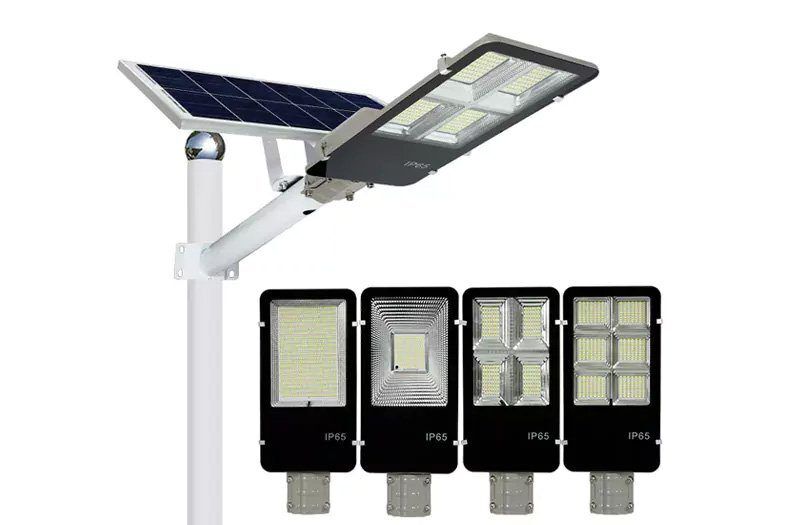 Ultra-Thin Die-Cast Aluminum Commercial Solar Street Lights
The classic solar street light, aluminum body, is die-cast, polished, powder coated, assembled with tempered glass, reflector and light source, and battery into a finished product. Solar panels are made separately.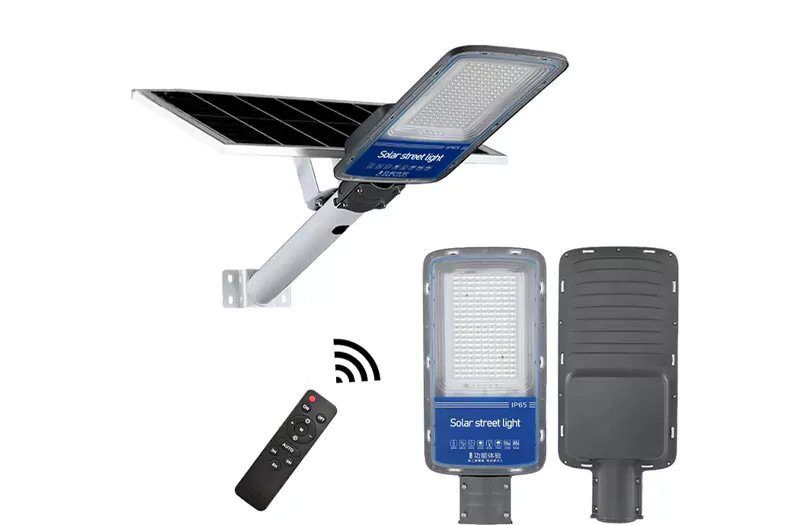 Popular In The Countryside Solar Street Lights Amazon
This ultra-thin solar street light minimizes the size of the product for transportation. The unique optical lens facilitates production assembly and cost savings. The solar panel can be customized to meet customer needs.
Classic Die-Cast Aluminum Models LED Solar Street Lamp
Classic die-cast aluminum commercial power street light housing, with high-power COB light source and optical lens, very good light efficiency, excellent heat dissipation, popular LED solar street light in the Middle East and Africa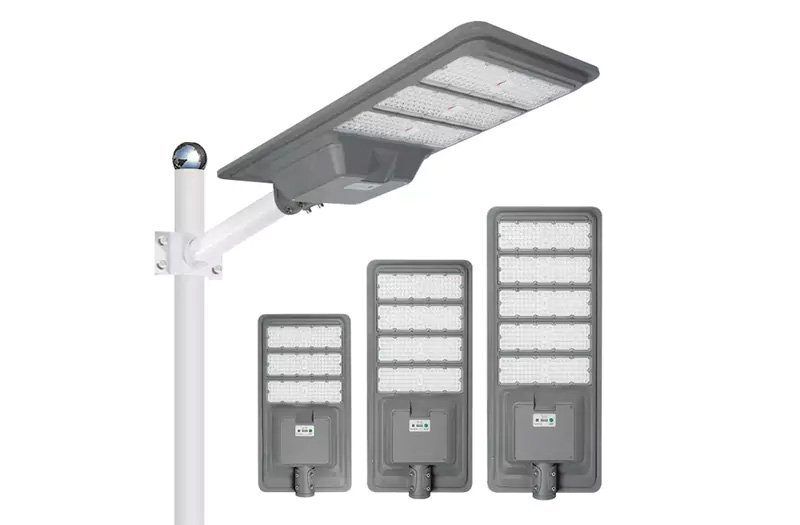 The Popular All In One Solar Panel Street Light In Africa
This die-cast aluminum solar street light adopts a new design, modular light source with PC optical lens, to improve heat dissipation and brightness. Durable, strong, and sturdy, ideal for primary road use.
MYDE Solar Street Light Advantages
High-Brightness & Wide Light Area
MYDE solar street light with high-quality LED, very bright, can meet the needs of larger places, such as parking lots, stadiums, gardens, and paths for the lighting of larger sites. ip66 waterproof and weather resistant. The best choice for electricity-free.
High Capacity Lithium Battery
MYDE solar street light has built-in 32650 and 18650 lithium iron high capacity batteries for longer life, safety, and stability. 6-8 hours fully charged, working time up to 12-14 hours, about 36 hours in dim mode.
Intelligent Control & Motion Sensor
MYDE solar street light is charged during the day and lights up automatically at night. Constant light, motion sensor, and brightness can be customized by remote. There are three control methods: 1. light sensor. 2. motion sensor. 3. remote control.
Easy Installation & Cordless
MYDE solar street light comes with assembled accessories and can be installed on the wall, pole, tree, balcony, or any outdoor place. No wiring and no maintenance are required
Solar street lamp component materials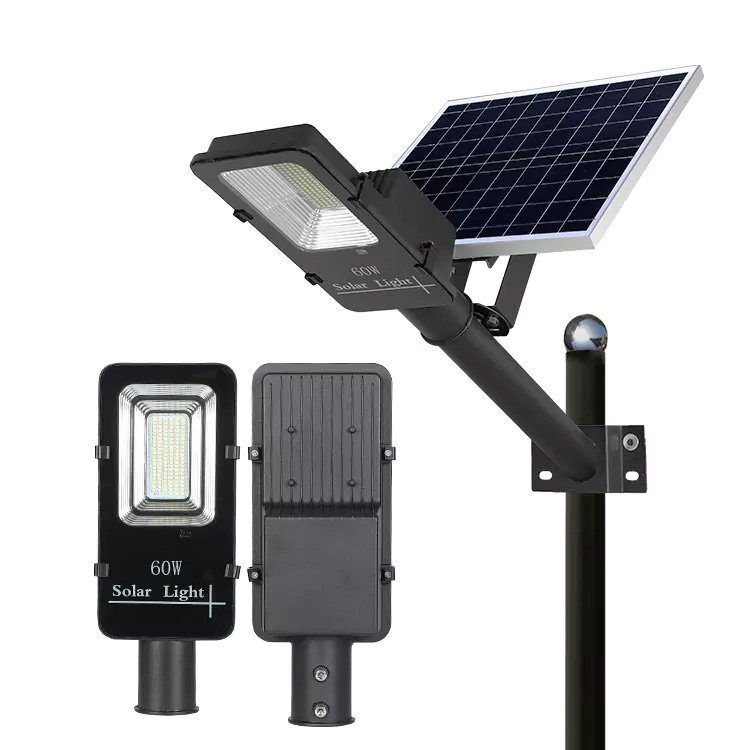 The materials of solar street light photovoltaic panels are mainly polycrystalline silicon panels and monocrystalline silicon panels. Photovoltaic power generation is based on the principle of photovoltaic effect, using solar cells to convert sunlight energy directly into electricity.
Solar street light Lamp body are usually made of die-cast aluminum, drawn aluminum, metal and various sturdy plastics with different surface treatments to be able to withstand impact resistance, high temperature resistance, corrosion resistance, fire grade, UV resistance, oxidation resistance in outdoor
Solar street light lamp shade has tempered glass cover, pc cover, acrylic cover, and lens lamp shade. Among them, glass has good light transmission, excellent weather resistance, will not yellow, and easy to clean; plastic lampshade has high light transmission, high diffusion, no glare, no light shadow characteristics, the important thing is that it is not easy to break Transportation and easy to install.
Solar street lights mainly use LED lights and 12V/24V DC energy-saving lamps as light sources. Among them, LED light source in the same brightness, power consumption is only one tenth of incandescent lamps, one third of fluorescent lamps, but the life is 50 times of incandescent lamps, fluorescent lamps 20 times, and the long life can reach more than 50000-100000 hours, LED working voltage is low, convenient and safe.
Solar energy storage batteries are mainly: lithium-ion batteries and lead-acid batteries of two kinds. Lead-acid batteries, lead-acid batteries are gradually being replaced by lithium-ion batteries. 32650 and 18650 lithium-ion batteries are widely used for their environmental protection and non-pollution, small volume and large capacity, high safety performance, long life and other advantages.
Dusk to Dawn Solar Light has three control modes: 1. Light Sensor: Optical sensor can identify light changes, dusk automatically turns on and dawn automatically turns off; 2. Motion Sensor: When an object movement is detected, it will automatically switch to high brightness mode; 3. Remote Control: Multi-mode long-distance use provides convenience. You can use the remote control to force the switch, timing, adjust the brightness, convenient, energy-saving, pollution-free.
Why Choose MYDE Solar Street Light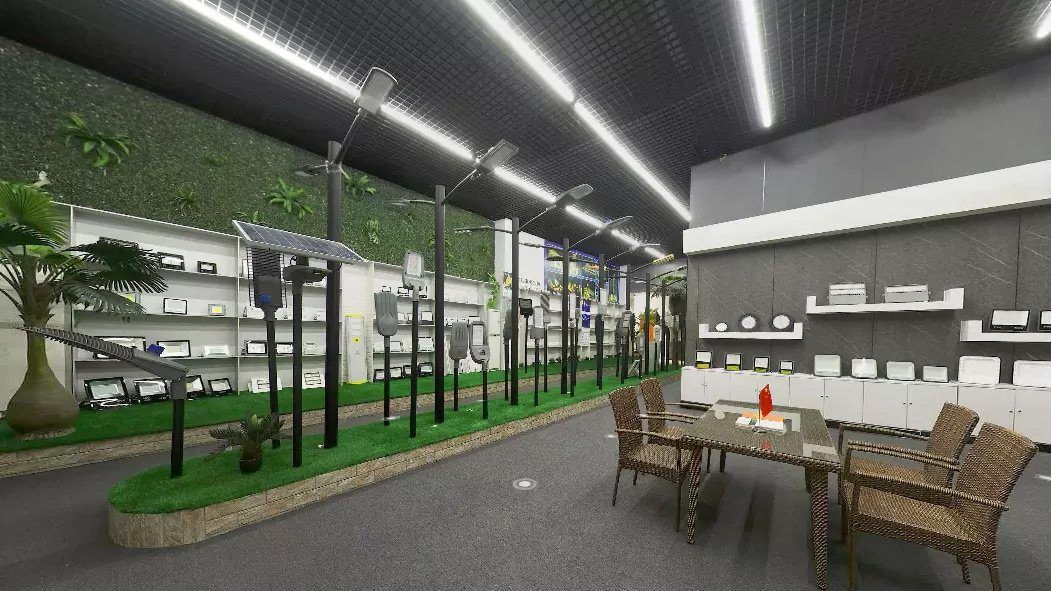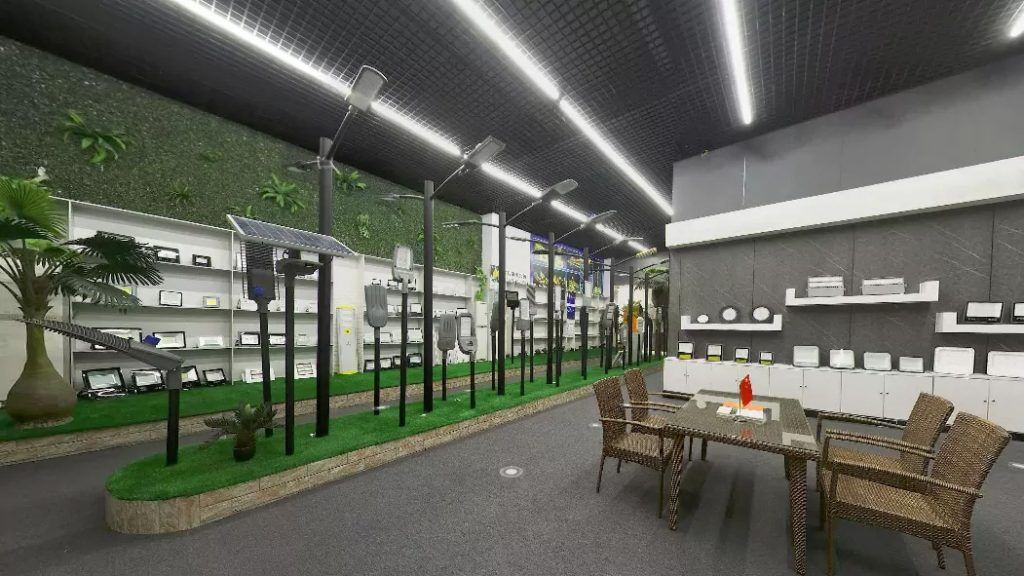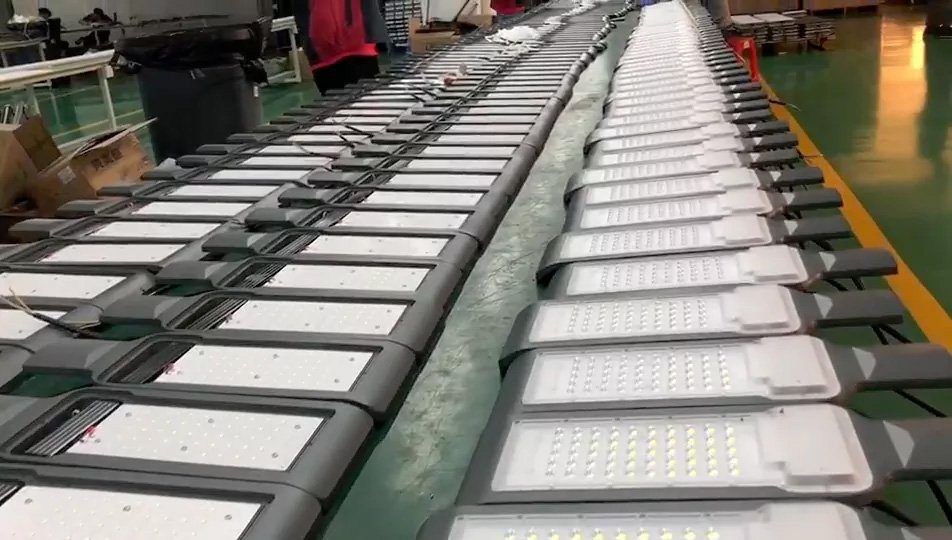 MYDE is a leading solar street light manufacturer and supplier in China. We specialize in developing, producing, and selling solar street lights with high brightness and long working hours. Our extensive lighting expertise allows us to offer the best solar street light products in the market and provide the best customer experience.
We insist on utilizing high-quality materials and branded components in the production of solar street lights. Coupled with design production innovation and advanced equipment, MYDE can produce high-quality and cost-effective solar street lights that are guaranteed to meet different scenarios of use.
Let MYDE support your street lighting business and we promise to do our best in upgrading and enhance your brand. Get in touch now!
MYDE: Your reliable Solar Street Lights Manufacturer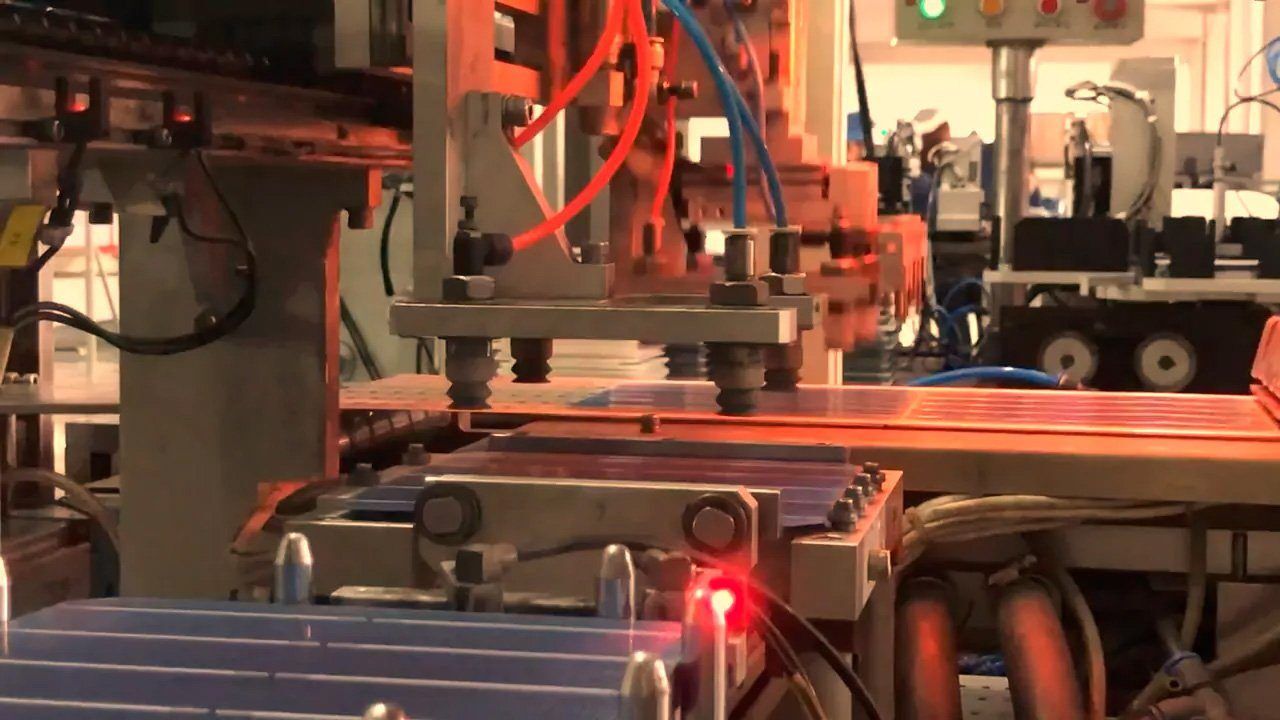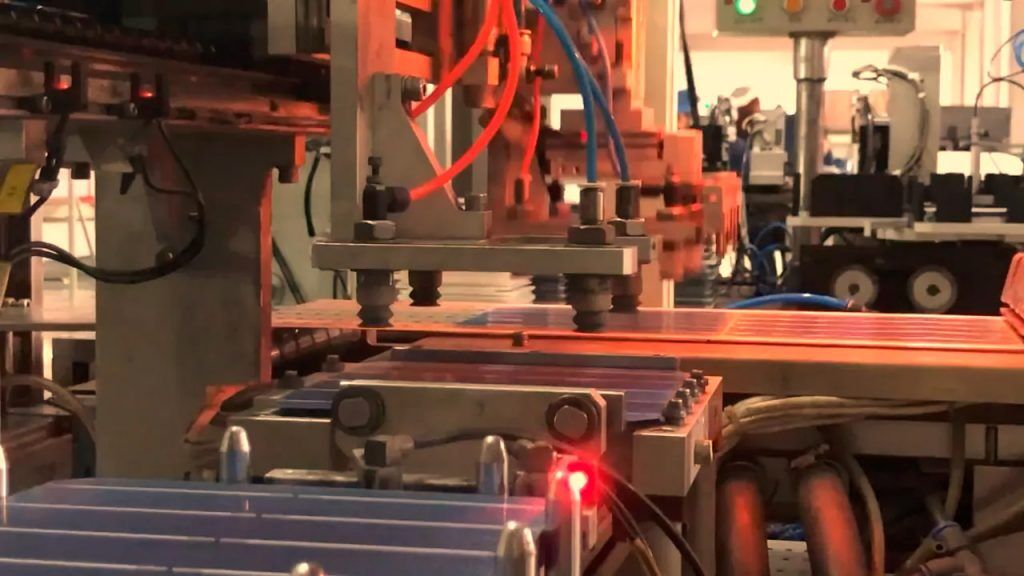 Manufacturing Process
MYDE has developed a detailed manufacturing process according to the requirements of the ISO9001 quality management system, through strict supervision of production quality, so as to achieve high efficiency and productivity in the production of quality solar street lights. Our solar street light production process includes but is not limited to: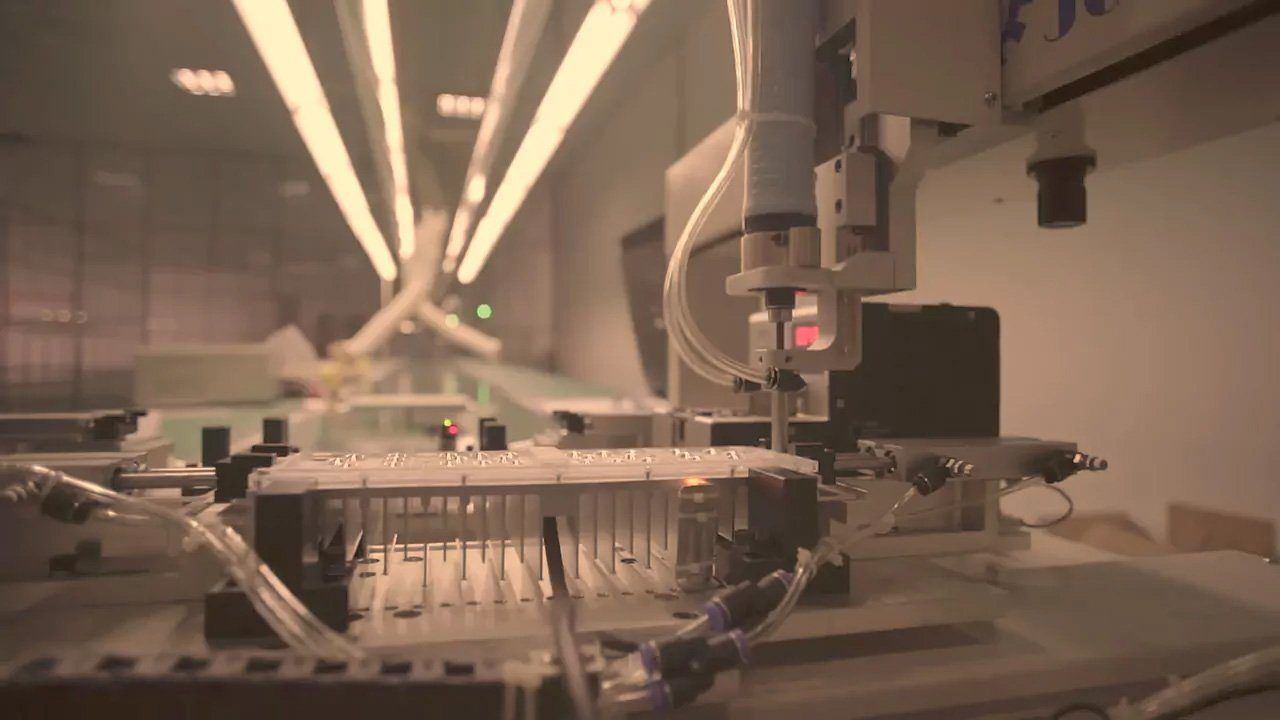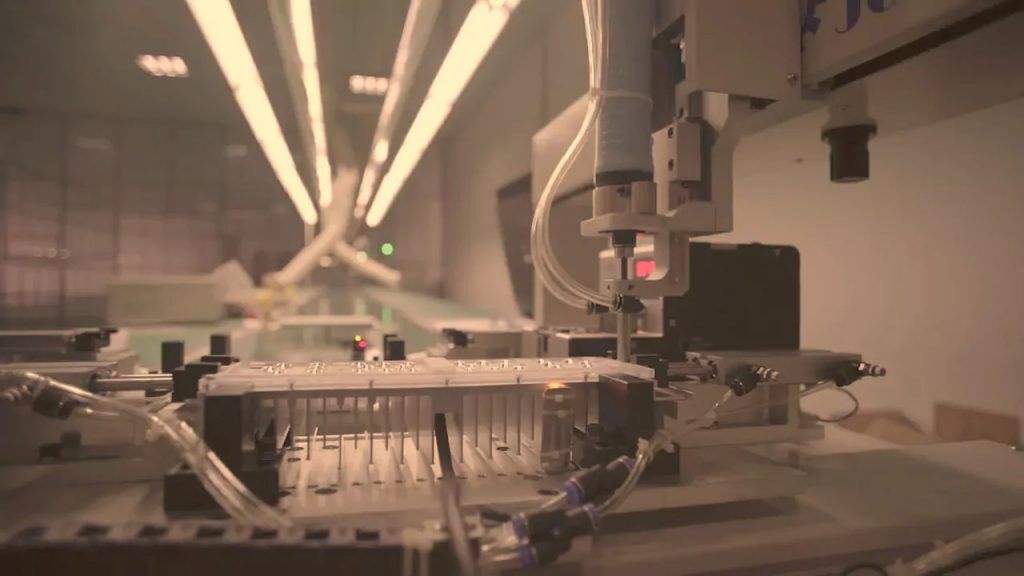 Test Process
MYDE develops standardized process inspection items and judgment criteria according to specific solar street lights and provides inspection guidance to quality control personnel to avoid batch quality problems and ensure that shipped products meet customer requirements. Our solar street light inspection items include but are not limited to:
ODM & OEM Solar Street Light for Various Applications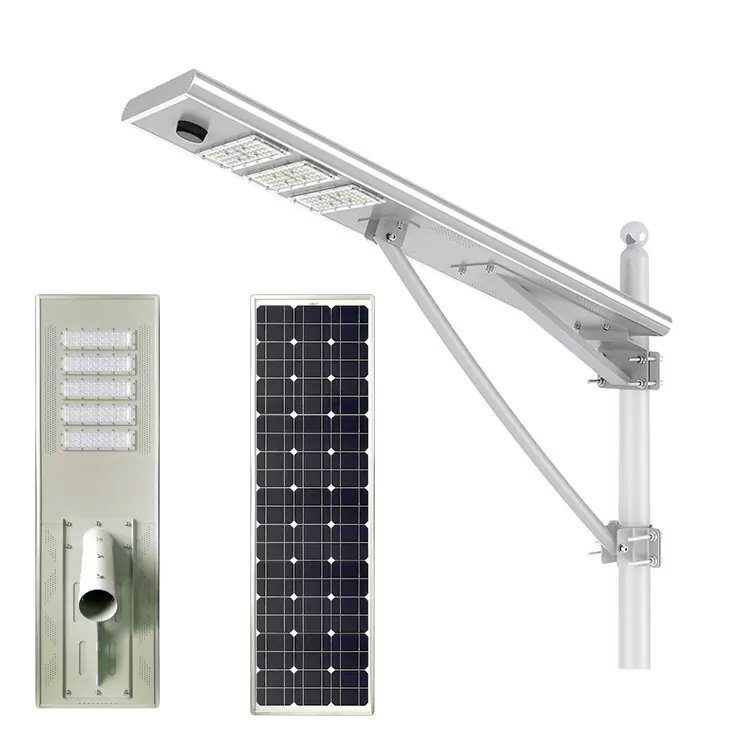 For Street
Solar street lights are installed on the road to ensure that on the rainy days, the sun's radiation is not strong, solar panels do not collect sufficient light and heat energy, but there is also enough electricity to emit light, so it is necessary to design solar panels and battery capacity is large enough to ensure that the night will be able to light up the entire road.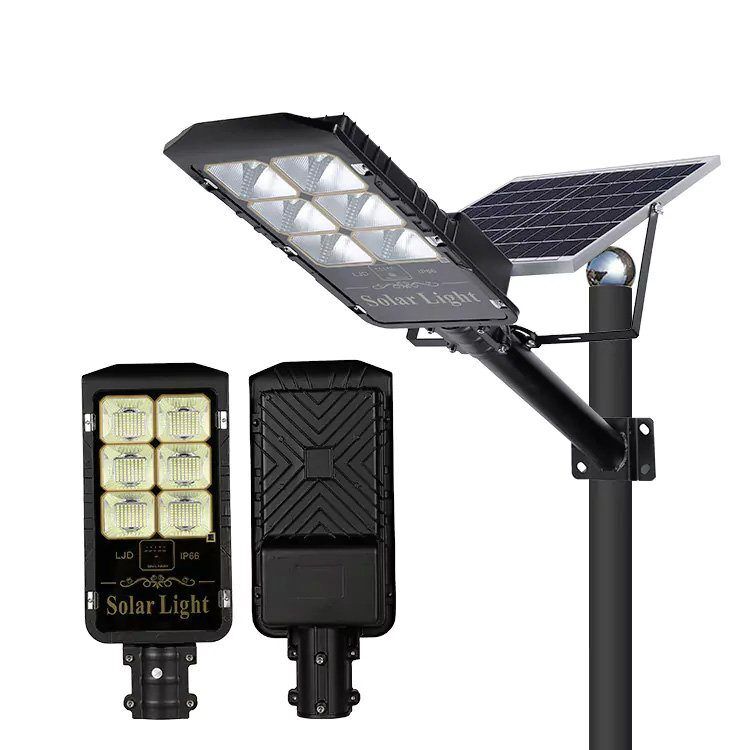 For Garden
Installed in the garden solar panels to avoid the shade of trees as far as possible to ensure that natural light can shine on the solar panels before they can absorb light energy to power the lighting fixture system, several solar lights are as far apart as possible in the middle, the specific spacing can be specified according to the wattage of solar lights.
For Playground
Solar street light does not need complicated and expensive pipeline laying, can adjust the layout of lamps at will, are safe, energy-saving, and pollution-free, the charging and on/off process is intelligently controlled, light-controlled automatic switch, no manual operation, stable and reliable work, saving electricity costs, maintenance-free, and can also dress up the playground.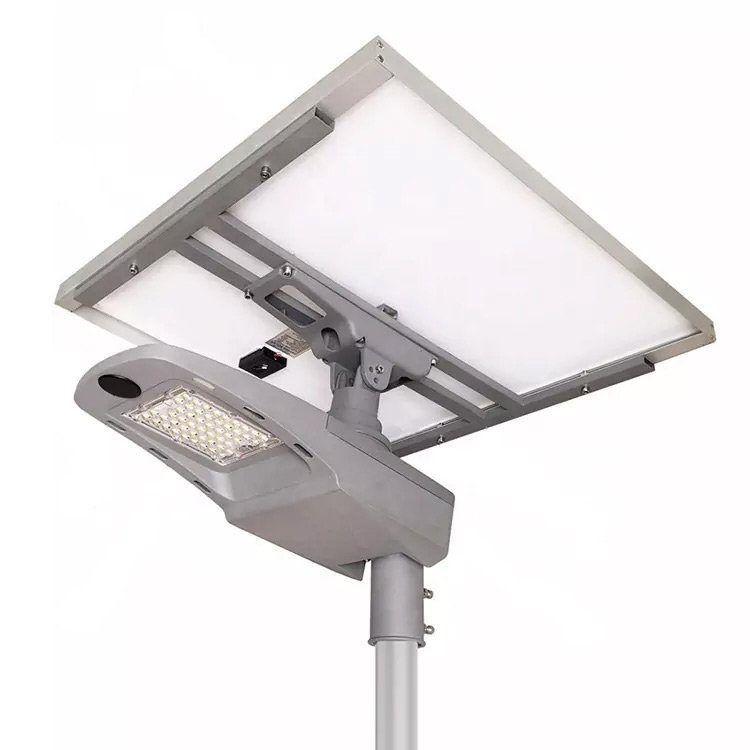 For Parking Lot
Solar integrated street light is an all-in-one integrated solar product, equipped with a human intelligent sensor system, to achieve low power consumption, long time, high brightness, up to 5-8 years of life maintenance-free, can reduce property management costs, ideal for parking lots and other places lighting.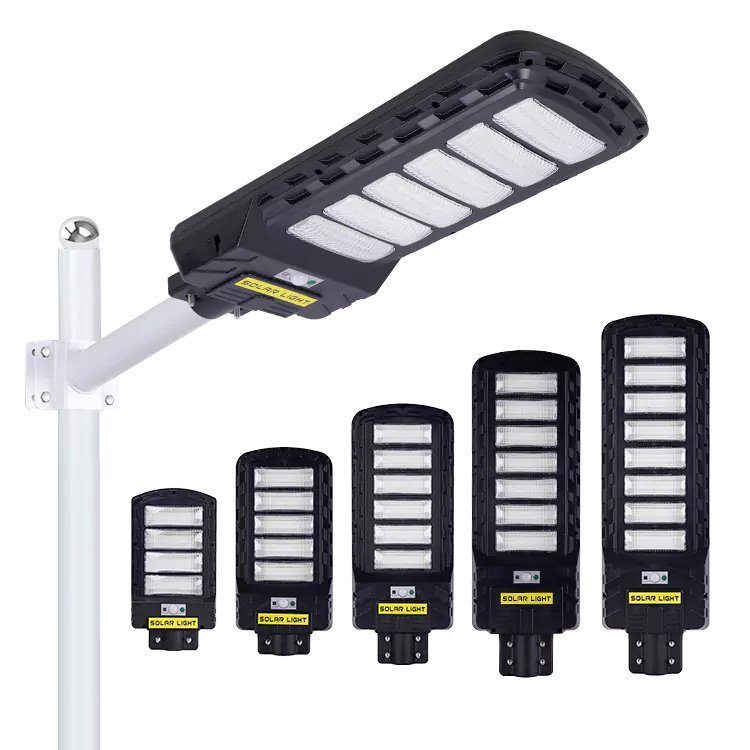 For Yard
Courtyard solar street light is a relatively special light, this light in addition to achieving the intended lighting effect, also takes into account the artistry of lighting and ornamental, usually used in neighborhoods, squares, private yards, and other places.
MYDE – Solar Street Light Manufacturer in China
We have over 8 years of experience in manufacturing solar street lights. If your company needs to import this kind of lamps, please choose our team as your backing.
"I am very satisfied with MYDE's solar street lights, they are trustworthy and have provided me with the best service and quality products. Our company has gained a good reputation and good market share in market development."

Abed
"Our company is very grateful for MYDE's work, their manufacturing service is satisfactory and they provided our company with excellent quality solar street lights in a short period of time, allowing us to complete the government project successfully."

Ben CIL
"We are a lighting company dealing with the African market. MYDE's solar street lights are high brightness and long working time, our customers are very satisfied. We plan to purchase more street lights from MYDE in the coming year to meet the needs of different customers. Well done, MYDE!"

Boukhris